Référence :
FRG/MOULE


MOULE POUR FILEUSE POUTRELLES
MOULDS FOR SLIP-FORMER MACHINE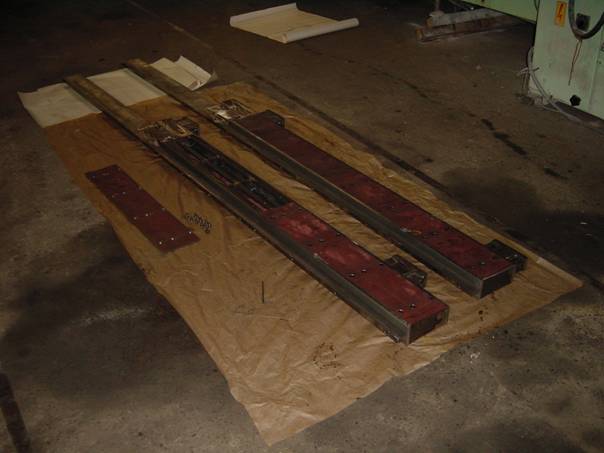 MOULES POUR MACHINE FILEUSE A BETON
EQUIPE DE PLAQUES D'USURE INTERCHANGEABLES

POUR : POUTRELLES.
MOULDS FOR SLIPFORMER MACHINE
FITTED WITH INTERCHANGEABLE WEAR PARTS

FOR : T-BEAMS.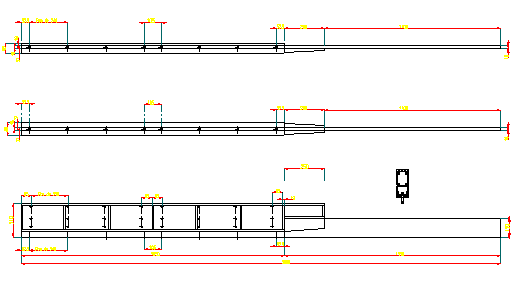 Coffrages glissants pour machine fileuse à poutrelles en béton précontraint.
Ossature intérieure rigide et plaques d'usure vissées pour une entretien facile et un remplacement aisé et économique.

Slip moulds for slip-former machine used in the production of prestressed T-beams. Internal lifetime rigid frame on which are screwed easy and economical replaceable wear parts.

Poids approximatif : 1.500 kg pour 10 poutrelles.
Suspendus par système existant dans les machines fileuses classiques.
Ossature intérieure rigide assemblée en atelier sur gabarit usiné. Rigidité permettant la diffusion de la vibration avec moins de destruction de la poutrelle, tout en conservant un aspect « très rugueux », propre et régulier des flancs.
Parties inférieures - en contact avec la piste - en acier type mi-dur (type A60) pour ne pas endommager la piste de fabrication, vissées à l'ossature intérieure.
Parties latérales en acier très dur (type Creusabro 400 ou Hardox 4000), vissées à l'ossature intérieure.
Témoin d'usure de la partie inférieure pour garantir les tolérances de fabrication du talon de la poutrelle.
Gabarit de montage et plaques d'usure réalisés sur mesure pour n'importe quelle section de poutrelles.

Approximate weight : 1.500 kg for 10 T-beams.
Suspended by existing usual system in slip-former machines.
Internal rigid frame assembled in workshop on machined master pattern. Rigidity allows the vibration to go in the concrete with less destruction of T-beams, while making a "very rough", clean and regular sides of T-beams.
Lower parts in contact with metallic pallet – made with half hard steel (grade A60) to not mark the pallet, screwed to internal frame.
Side parts made with very hard steel (grade Creusabro 400 or Hardox 4000), screwed to internal frame.
Wear off witness of the lower parts to insure satisfactory tolerances of lower parts of T-beams.
Master pattern and wear parts made upon demand according to any final T-beam sections.